PURCHASE TICKETS NOW FOR UPCOMING SHOWS TO THE MASTERCARD THEATRES @ MARINA BAY SANDS
Never one to let you miss the next greatest performance, we keep you updated with the news of upcoming shows to The MasterCard Theatres @ Marina Bay Sands.
MICHAEL JACKSON THE ULTIMATE TRIBUTE SHOW
Moonwalking its way to the MasterCard Theatres at Marina Bay Sands comes this smash hit concert.  With just 3 shows only from 5 to 6 June, The Ultimate Tribute Show will celebrates the icon's life and his most loved musical masterpiece and recording – Thriller.
All of Jackson's biggest hits are performed live in this world-class production that features an international band, fully choreographed dancers, all your favourite MJ costumes and theatrical lighting and effects. And as part of the revamped show, audiences will also get a special treat on this particular tour – the iconic Thriller album, performed live in its entirety as a special tribute to Jackson's magnum opus and the inspirational vision that he pioneered.
THE ULTIMATE TRIBUTE TO MICHAEL JACKSON
Season: 5 – 6 June 2015
Venue: Grand Theatre, MasterCard Theatres at Marina Bay Sands
Performance Times –
Friday 8:00pm;
Saturday: 2:00pm and 8:00pm
Ticket price – From $55
* Excludes the booking fee of SGD$4 per ticket
Get tickets at www.sistic.com.sg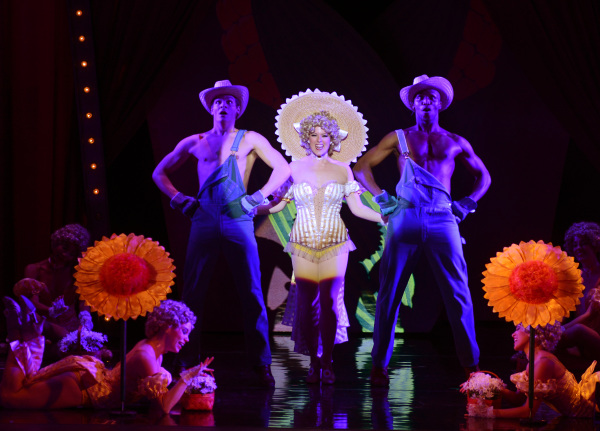 GUYS AND DOLLS
Making its way to Singapore for the first time, Guys and Dolls celebrates Broadway's golden era with one of the greatest scores ever written for a musical by the legendary Frank Loesser.  Performing at The MasterCard Theatres at Marina Bay Sands from 28 August 2015 for a limited season. Tickets are now on sale.
GUYS AND DOLLS takes us from the bustle of Times Square to the dance clubs of Havana to the sewers of New York City as it demonstrates the great lengths to which a guy will go when he truly falls in love with a "doll." The show features some of Frank Loesser's most memorable tunes, including the hilarious "Adelaide's Lament," the romantic "I've Never Been in Love Before,"the exuberant "If I Were a Bell" and the classic "Luck be a Lady."
Bustling with gamblers, gangsters, and sassy showgirls this musical has introduced audiences to a cast of characters who have become legends in the musical theatre world: Sarah Brown, the upright but uptight "mission doll," out to reform the evil-doers of Times Square; Sky Masterson, the slick, high-rolling gambler who woos her on a bet to Cuba and ends up falling in love; Adelaide, the chronically ill nightclub performer whose condition is brought on by the fact she's been engaged to the same man for 14 years; and Nathan Detroit, her devoted fiancé, desperate as always to find a spot for his infamous floating cards game.
GUYS & DOLLS
Season: From 28 August 2015
Venue: Sands Theatre, MasterCard Theatres at Marina Bay Sands
Performance times –
Tuesday to Friday 8:00pm;
Saturday: 2:00pm and 8:00pm
Sunday: 1:00pm and 7:00pm
Ticket Price – From $65
* Excludes the booking fee of SGD$4 per ticket
Get tickets :-
www.sistic.com.sg