ROOF TOP COCKTAILS, ART EXHIBITIONS AND MUCH MORE : WHAT'S HAPPENING IN APRIL AND MAY 2015
From roof top tulip cocktails to quirky knitted art and so much more, we know what you cannot miss this April and May 2015.
HARPER'S BAZAAR LOVES SINGAPORE fashion and photography exhibition
Harper's BAZAAR fashion exhibition features a showcase of works by the Top 3 Singaporean finalists of the 2015 Harper's BAZAAR Asia New Generation Fashion Designer Awards.  With mood boards, sketches and actual garments by Benjamin Neo, Lionel Low and Silvia The, this is an exclusive public exhibition even before the showcase at the Singapore Fashion Week in May.
Harper's BAZAAR SG photo exhibition will be exhibiting a series of high fashion images shot in unsuspecting Singapore locations.  Be inspired by these creative works.
These two exhibitions in collaboration with Scotts Square are free of charge.
Harper's BAZAAR Loves Singapore at Scotts Square now until 3rd May 2015.
QUIRKY KNITTED ART BY DONNA WILSON at K+
K+ at Scotts Square will be presenting the quirky knitted art works of Donna Wilson.  Originally from Scotland, Donna established her company in 2003 after making odd knitted creatures for her final show at the Royal College of Art in London.  She went onto win 'Designer of the Year' at Elle Decoration's British Design Awards in 2010 and has since had her works featured around the world.  Along with a menagerie of kooky knitted creatures, K+ will be hosting pieces including homewares and accessories.
Donna Wilson at K+ Scotts Square #03-14/15, now until 31st May 2015, daily from 12pm to 8pm.
CHARLES FAZZINO 3-D Artwork Exhibition at Bruno Gallery
The world-renowned New York pop artist, Charles Fazzino will be exhibiting over 15 iconic artworks on major cities and places including Manhattan, Broadway, London and Paris right here in Singapore at the Bruno Gallery.  To celebrate Singapore's jubilee year (SG50), the exhibition will also showcase a specially-created artwork 'Celebrating the Enchanted Island of Singapore'.
Charles Fazzino at Bruno Art Gallery, Tanglin Place from May 27th to June 14 2015.
For more information, please click HERE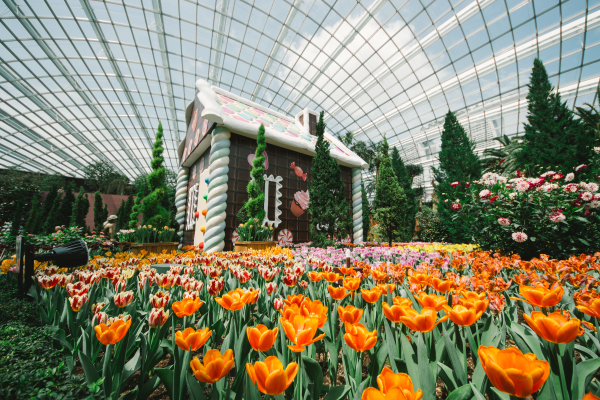 TULIPMANIA Blooms and Cocktails at Gardens by the Bay
Back and popular as ever, TULIPMANIA returns to the Flower Dome at Gardens by the Bay.  With over 40 varieties of this flower from The Netherlands, expect a bright and colourful work of art in bloom.  Why not take this Tulipmania to the next level, enjoy a 'SuperTree Tulip' cocktail whilst enjoying the serenity of the alfresco rooftop bar.  This refreshing concoction of brandy, grenadine syrup, mint syrup and fruit juices is served in a Martini Glass and is priced at $18 Nett.  Perhaps a mocktail is more to your taste, drop by 26 @ Marina Bar & Bistro to try three mocktails specially created for this Tulipmania season.  Each is priced at $8.80 Nett.
Tulipmania at Gardens by the Bay from now until 10th May, open daily from 9am to 9pm (admission to Flower Dome applies).
SuperTree cocktail available now until Sunday 10th May at SuperTree by IndoChine.  10am – 1am (Sun-Thurs); 10am – 2am (Fri & Sat)
Tulipmania cocktail served by 26 @ Marina Bar & Bistro (located at Satay by the Bay) until Sunday, 10th May daily 12pm to 12 am.