LOVE YOUR EXPRESSIONS, LOSE YOUR LINES : EXPRESS YOURSELF WITH CONFIDENCE WITH POND'S AGE MIRACLE RANGE
The multi-talented award-winning local artiste, Michelle Chong joins Pond's Age Miracle to celebrate the woman who expresses herself with confidence for the brand's new campaign 'Love your Expressions, Lose your Lines' #lovemyexpressions.
As a woman who expresses herself through many different roles; actress, director, host and writer, Michelle Chong is a great choice to show women that, with confidence (and a little help from Pond's Age Miracle), it's easy to Love your Expressions, Lose your Lines!
While Michelle Chong joins Pond's Age Miracle, the brand affirms their belief that aging should not be a factor that prevents women from embracing new challenges and living life to the fullest. Since bringing the Pond's Age Miracle range into her regime, Michelle Chong says her skin has become smoother – "my laugh lines especially are less visible and firmer" she states.
As we know, Michelle plays characters from Lulu to Barberella on television and, confirms she relies a lot on her expressions rather than make-up or costume changes to bring their personalities to life.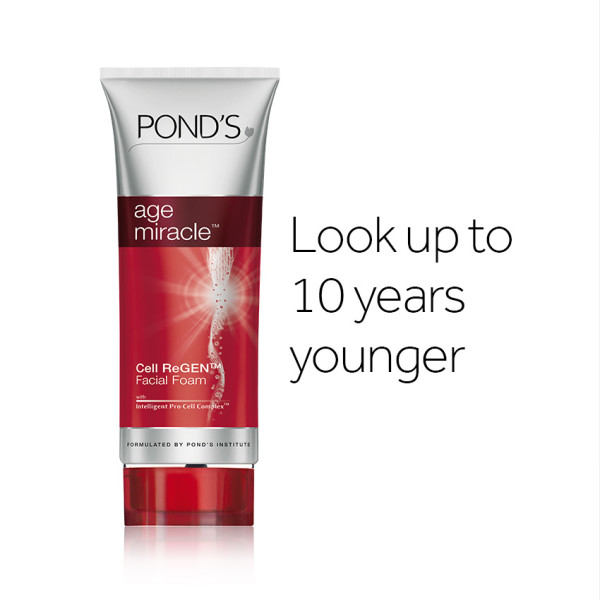 We particularly like the Cell ReGEN™ Facial Foam (S$9.99) that is specially formulated to deep cleanse the skin and prep it for cell repair. This contains gentle microbeads that really do reveal a more youthful and healthy skin.
For eyes, the Dual Action Eye Cream (S$29.90) is a must-have. One side pink cream with cell boosting Collagen helps in reducing wrinkles, fine lines and crow's feet while the white cream will reduce puffiness and dark circles to stimulate the skin to instantly brighten tired-looking eyes.
Also available in Pond's Age Miracle range is Cell ReGEN™ Milky Toner (S$19.90), Cell ReGEN™ Day Cream SPF 15 PA++ (S$29.90), Deep Action Night Cream (S$29.90), Firm & Lift Face & Neck Lifting Cream SPF 30PA++ (S$39.90) and Firm & Lift Targeted Lifting Massager (S$49.90).
The Pond's Age Miracle range is available at selected shopping malls (Bugis BHG and Centrepoint), supermarkets (Cold Storage, Mediya, Gian Hypermarket and Guardian pharmacies.
You too can join the Pond's Age Miracle #lovemyexpressions campaign by simply sharing pictures of your daily expressions, inspiring all women to love and embrace their true self and the world around them.