STAYING CONNECTED
Our constant demand for more data and faster date speed on our mobile plans seem to be endless as we become more attached to our mobile phones with so many applications.  We have too many social media (to post our selfies with our BFFs or loved ones) or shopping apps that take up our bandwidth.  Singtel has recently unveiled a range of mobile plans that are fully integrated with a new premium high-speed WiFi network that it is rolling out at crowded locations and underground MRT stations.
As Asia's first WiFi-integrated mobile plans, the new Singtel mobile plans comes in 6 Combo plans which are designed to meet consumers' fast growing mobile data needs by offering high-speed WiFi usage in addition to 4G data bundles.  The new Singtel premium WiFi network complements the existing 4G network and boosts network capacity in crowded, congestion-prone locations, it also optimize mobile data experience where its needed most.
Existing Singtel combo plan subscribers will now be able to switch automatically between the 3G, 4G and SingTel WiFi network without a manual password login (that's very convenient, isn't it?).  Combo plans start from S$27.90 to S$239.90 (SingTel has permanently waived the 4G value-added service subscription charges to allow subscribers to enjoy a high-speed and seamless experience).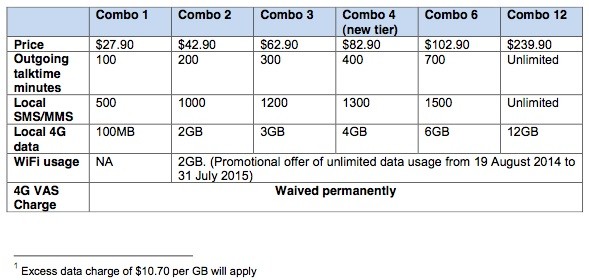 We are inviting readers to share how you plan to use the outgoing talk time and unlimited data usage with the new Singtel Premium WiFi mobile to connect with friends and loved ones in not more than 100 words here or on our Facebook Page. Contest runs from 6 – 12 November 2014 using hashtag #Getmorevalue. Winner for the contest will win an additional 2GB data plan for 12 months, worth S$256.80.
DETAILS: 
For the full list of SingTel WiFi hotspot locations, please visit singtel.com/stwifi. 
*average typical speeds of SingTel WiFi range from 4 to 10Mbps.
Related articles